Since last we met, we've had more lockdowns, the Tokyo Olympics have come and gone and the Brisbane Bicycle Film Night and Cargo Bike Expo is all but a memory though all the while, my legs have continued to turn. Beyond commuting, shopping and the odd recreational ride, I also picked a particularly bright, crisp winter's day to take a leisurely roll along a prime section of the Brisbane Valley Rail Trail from Linville to Yarraman.
The BVRT is always a pleasure to visit so when time was finally on my side, I grabbed the opportunity exuberantly packing my Scott Scale into my four wheeled fossil transporter and high tailed it out to Linville. I deliberated about attaching extra bags to the Scott and camping out there but the 5 degree C forecast persuaded me to change my mind though upon arriving at Linville I noticed that the camping area at the old station was full of tents, campervans and bikes. It was a similar story in most of the towns I passed through. Ah well, that'll have to be for next time.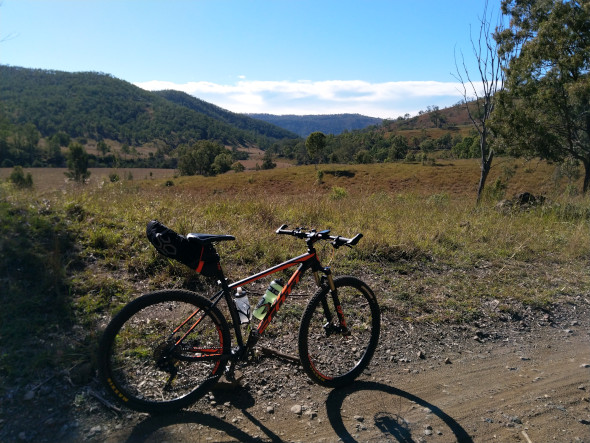 I started up the gentle ascent out of Linville and was soon immersed fully in the wonderful surroundings. Tiny birds with red tails (Red Browed Finches?) periodically darted out of the bushes at the sides of the trail and flew along in front of the bike, new and interesting vistas emerged around each corner and before I knew it I had arrived at Blackbutt for food, rest and a couple of photos.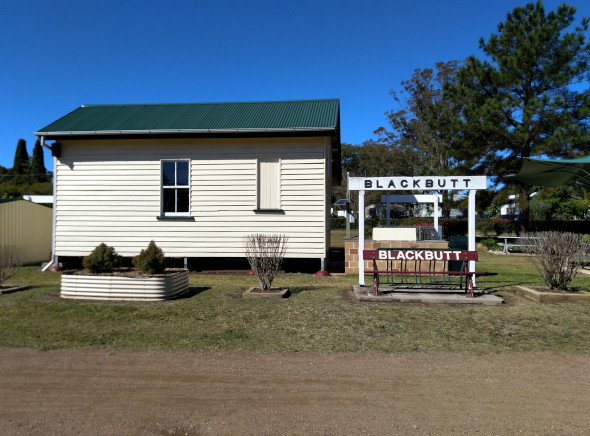 Once fed, watered and caffeinated at the Bunya Nut Cafe, I disappeared back into the trail on the other side of the road and was in solitude once more except for the odd group of gravel bikers, mountain bikers or e-bike riders going the other way.
More stunning vistas and several interesting plants along the way were reason to stop, photograph and ponder. Granted, many of the species of plants are officially classified as weeds but that made them no less interesting. I pushed on toward Yarraman.
Now, an adventure is arguably more of an adventure when challenges arise and today I would get to sample a small test of whether or not that's true. Crossing a small creek through a gully, I didn't notice quickly enough the large, flat rocks spaced out like stepping stones at the bottom of the creek as I thundered downward. Hitting the edges of the rocks with my back wheel seemed perhaps a little more than the bike should have to endure but not so much that I immediately thought about it again as I heaved up the other side of the gully. Not until a few kilometres later, that is, when I rolled into Yarraman to the disappointing ting of what was unmistakably a broken spoke. I stopped to inspect the damage and there it was – flailing about my rear wheel like a fish that just been landed by a fisherman. Luckily the wheel remained true enough to keep turning so I kept rolling through town in search of food and a way to prevent the possibility of the loose spoke spearing through my calf muscle on the way home.
I eventually found my way to the Water Inn Cafe where I got a most agreeable meal and a length of electrical tape to secure the loose spoke courtesy of the friendly locals.
Good to go again, I started back to Linville and enjoyed a surprisingly uneventful return voyage.
That's it for today. Do try a ride on the BVRT – you won't be disappointed. Don't worry about having the "right" bike because it's suitable for any bike except maybe a dedicated road bike. Don't worry about being fit enough – it's easy riding and there's food, coffee and, if required, accommodation quite frequently along the way. Maps, a distance calculator, accommodation information and a whole lot more here.
Ride safe and see you out there some time.