As I mentioned in my last post, over the last little while Brisbane really seems have been taking shape as a city that's getting serious about moving towards supporting a well balanced transport mode mix which includes better infrastructure for cycling, scooting and walking with the closure of the Victoria bridge to motor traffic, some very spiffy new bike lanes right through the centre of the CBD, new bicycle and pedestrian green bridges about to be built and a host of other projects. I, of course, have been taking full advantage now that the pandemic craziness is beginning to subside and I'm making my way into my work office a couple of times a week. It's a nice break from the same desk and four walls that I've come to love since I started working from home and, as you may have guessed, I'm always keen for a ride so it's a bit of a win-win.
Many other people have discovered the same and business owners are taking advantage with purveyors of fine coffee and beer displaying signs along some bikeways to lure in passing riders and recently I even saw this bike mechanic along the Kedron Brook Bikeway with his cargo bike drumming up business. I don't know who the guy is and I have not yet made use of his services but I reckon since he's out there having a go he deserves a little plug. So, if your steed is sounding a bit creaky, rattly or just needs a general freshen up, maybe consider giving him a call.
For my own commutes, I've been alternating between my Cannondale fishing/camping bike and my Yuba electric cargo bike which both have pannier bags thus providing me ample room to carry all I need for a day of surfing the Internet and pretending to work plus enough room left over for picking up those extra grocery items, spare stationery, new shoes, drinks or anything else I might fancy on the way home.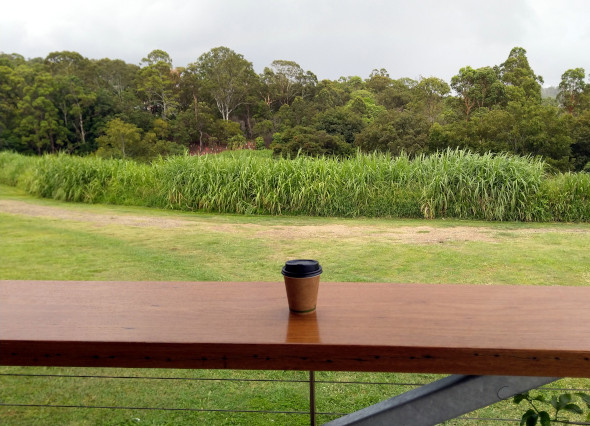 And for those of you who still haven't discovered bike commuting, I suspect you may be missing out. Not only does bike commuting get you to work in the most economical way possible, you're also doing the exercise you would otherwise have had to find extra time for whilst also reducing your stress by avoiding playing "motor vehicle chess" if you were commuting by car. In fact, if you add a coffee stop along the bikeway as I have been, bicycle commuting is effectively like adding a teeny, tiny weekend to either end of your day for every day that you do it.
Now, I can only speak from experience about the north side, but even though there's still a little tidying to be done on the new CityLink bikeways in the CBD as at this writing, you can otherwise get most of the way from many places on the north side to the CBD using bikeways and back streets almost exclusively and linking up any remaining gaps on footpaths for those who are a little dubious about riding on the roads. A little bit of planning will help a lot.
But if that still sounds a little intimidating or just beyond your current level of fitness, maybe you can cheat a little. The following idea isn't something I've ever tried so you'd need to do a little sniffing around to fill in the details but it's basically about driving some of the way with your bike in the car and riding the rest. It's cheaper than parking in the city, you're still getting the exercise (and maybe that coffee I was talking about) plus you're probably avoiding the worst of the traffic jams. Where would you park to do such a thing? A park, a shopping centre, the side of the road somewhere? I'm not sure of the legalities but it may be worth looking into depending on your situation. Alternatively, perhaps you have a friend or relative with an empty garage along your commute route? And when your fitness level builds which happens much faster than you might think, you could just ditch the car completely and ride all the way.
Lastly, the other day I found myself in something of an Internet black hole clicking from one interesting looking thing to another until I found myself at the following item posted on a popular social media platform by Adam Bronkhorst (no, I didn't finally decide to sign up). Sure, it's a potentially divisive question but also a very interesting and relevant one (there are certainly opponents to some of Brisbane's latest bike related improvements).
"Dear Cycle Haters,
What is your endgame? Less transport choices for people? No one cycling? More cars on the road? Less parking spaces? Increased congestion? Higher pollution?
What are you actually trying to achieve?
Genuinely interested to know."
Dear Cycle Haters,

What is your endgame? Less transport choices for people? No one cycling? More cars on the road? Less parking spaces? Increased congestion? Higher pollution?

What are you actually trying to achieve?

Genuinely interested to know.

— Adam Bronkhorst (@AdamBronkhorst) December 6, 2020
I mean, hating cyclists seems like such an absurd and twisted state of mind. It's like developing a hatred of cutlery, lamp posts or something equally as ridiculous. It makes me think that there isn't any endgame for those people at all. Rather, it's more likely a case of some baseless, irrational fear of disrupting the status quo or perceiving that they're missing out on something because they can't or won't reach out and grab it for themselves so, instead they choose to try and drag "the other" back down.
I don't know. It's food for thought.
Ride safe and see you out there sometime.