Happy New Year! Because life has taken over once again, I've been sitting on this write-up for a while and the trip was actually done in September 2020.
I've been winding up to try bikepacking for a while now. It seems like the next logical step in my cycling career especially in the context of my embracing the use and enjoyment of bicycles holistically and in trying to push the boundaries of their utility. My several recent bike fishing jaunts kind of started the itch. A couple of casual morning tea jaunts through the bush pushed the idea further and the next natural step was, "Why not add some camping gear and sleep in the bush for the night?".
There's quite a buzz around bikepacking all over the world right now though I think Australia has been slower with the uptake which is a shame because we have some really spectacular natural assets that could be appreciated in a better way from the saddle of a bicycle.
In the growth of the global bikepacking culture, there are several trends that have emerged in terms of bicycle styles, bags and other accessories that have come to define bikepacking in many ways as it's own genre and to become something very different from the traditional style of bicycle touring defined many decades beforehand. And it's a great thing, don't get me wrong – pushing the boundaries of what's possible with new styles bags for carrying gear, blurring the lines between traditional categories of bikes and creating new aesthetics to draw more people into riding bikes and keeping existing patrons interested are vital for keeping cyclosphere moving forward.
But bikepacking is also a creative, messy, amorphous, scrappy, DIY affair and not everyone's requirements fit neatly into one handlebar bag, one triangular framebag and one oversized saddlebag. Sometimes, traditional touring gear like pannier bags are a better, roomier option for those of us who are a little more "minimalistically challenged" despite the fact that they make pushing your loaded bike up that massive incline a nuisance and that there's a limit to how rough a track you should try with them on.
Having said that, my Cannondale F4 fishing bike (which is after all a mountain bike) seemed like a good place to start when it came to bikepacking. It's pannier bags, although boasting more carrying capacity than the average currently popular bikepacking setup, were still not quite enough for my infantile, suboptimal bikepacking skills so I added a handlebar roll as well creating a curious hybrid of modern and traditional. I guess that also follows the general cycling maxims of "ride watcha brung" and "ride how you like".
The theme of all this was about trying and seeing so I didn't want to blow a king's ransom on gear that might not get used again if the whole bikepacking thing didn't quite hit the spot after all. That meant I'd be looking to buy a tent, sleeping gear and cooking gear that was light but not the lightest and small but not the smallest. Money would be saved and the extra room afforded by the pannier bags justified. So it was off to my local camping shop to get what I needed which was a most awesome experience and quite an eye opener to what is available for camping now compared to when I was a wee tacker sleeping in a sometimes-waterproof canvas tent that weighed a ton on a camp stretcher that made sleeping on asphalt sound like a comfortable upgrade option.
There's a little rundown of the gear I actually ended up with toward the bottom of the page.
With my gear sorted, all I needed now was somewhere to ride to and camp. Having ridden all through the local area for a couple of decades and a bit, I knew that the D'Aguilar National Park around Mt Nebo held quite a few treasures and a quick look around the interwebs revealed that as well as places to ride, there are also several good options for camping. England Creek Remote Bush Camp looked like it would be far enough from civilization to fit the bill yet close enough that I could make it an overnighter right from my doorstep. The catch was that there would be a lot of climbing. The GPS route that I promptly plotted revealed that a couple of off road sections on the western side of Mt Nebo were in the 12% to 18% range though there were a lot of flat sections as well.
I'm guessing that 18kg of gear is a little on the high side for an overnighter in a not-particularly-cold environment but that's the best I could manage for a first attempt. Maybe I'll do better next time…or maybe I won't. Besides, D'Aguilar National Park was bone dry meaning there was no water in the creeks and so the 18kg also included several litres of water that I had to cart with me.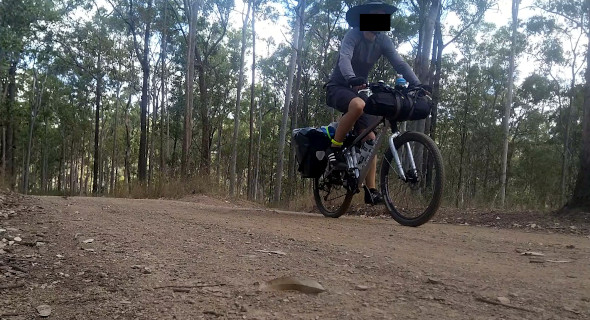 Anyway, the next day at the crack of 8am or so, my porky bicycle and I rolled out of the front door and headed along my familiar route through Ironbark Gully and the Samford Pony Trails toward Mt Nebo. After popping out onto Mt Glorious Road, I was relishing the idea of swinging left onto the Goat Track and hearing the gravel crunching under my tyres as I climbed to the top of Nebo. Alas, it was not to be. Upon arriving at the base of the Goat Track I was met with several workmen sitting at the side of the road with their morning tea and a large "Road Closed" sign across the road. Apparently luck would have it that this day was road grading day on the Goat Track. After a quick lowdown of the situation from the workmen, I disappointedly took my only other option which was to head to the top of Nebo via Mt Glorious Rd. It was something I had hoped to avoid as the detour added several kilometres to the ride and is quite a bit steeper and busier than the Goat Track.
After a great deal of slow progress and a lot of hike-a-bike, I arrived at the top completely exhausted and left with a couple of choices to make. The extra steep climb meant that I desperately needed food and water but I was reluctant to dig into my stash because I still had to get to England Creek and home the next day. To the right of the tee junction before me was a gentle two kilometre climb to Mt Glorious Village where water, a well stacked burger and other refreshments awaited but the day was beginning to get away from me. To the right, maybe another five or six kilometres down a gentle descent was the entrance to the trail where I would drop down the back of Mt Nebo and on to England Creek bush camp. Maslow was right again and after a slow but short climb, I was tucking into a chicken burger, juice and water while soaking up the Mt Glorious Village atmosphere. This place really was like jumping into a postcard.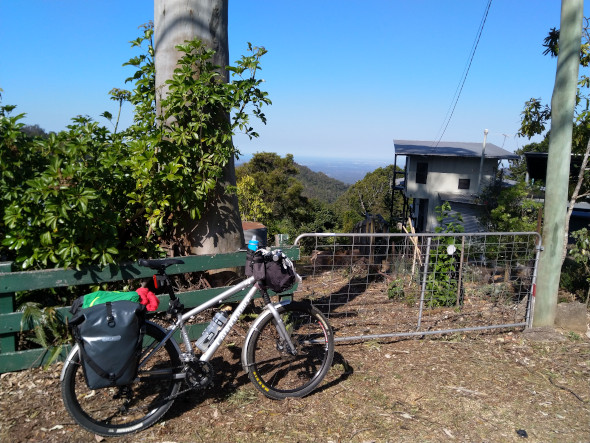 With energy stores replenished, I bombed back down the hill and past the tee junction. England Creek, here I come!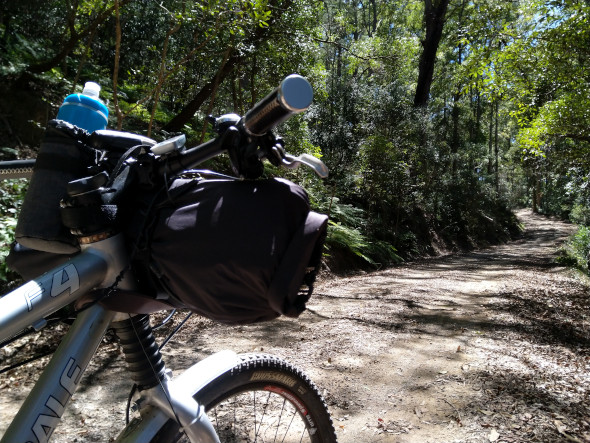 A rubbish tip seems like a strange place for the entrance to a national park but, hey, who am I to question and the main thing was that I had arrived at the final and most exciting leg of my journey. After heaving my loaded steed (stop that!) over the horse rail at the entrance gate, a short way down the fire trail I reached Dundas bush camp and knew then that I was well on my way. Swinging right past Dundas, the trail started to descend sharply and the quality of the surface with it. Nonetheless, the F4 didn't balk despite its heavy load and fenders (or maybe my idea of rough and steep is a little different to others').
Before long, I was at the bottom of the western side of Nebo following the trail through the thick undergrowth towards the England Creek bush camp. The dry England Creek bed weaved in and out of parallel with the trail as the day drew visibly closer to its end with shadows growing darker and longer in the lower parts of the trail. Goannas and bright red King Parrots showed glimpses of themselves in the long rays of sun. The extra climbing earlier in the day was catching up to me now as my leg muscles pinged with every rise. This had become much more than a slow roll now but I relished every moment of my surroundings, solitude and utter immersion in this fantastic place. Getting lost in here was a very real possibility and I appreciated the presence of my GPS greatly as it guided me on to the campsite. A little longer and I was able to see the light of the other camper who had also booked England Creek for the night.
The final rays of the sun disappeared just as I had finished setting up my tent and bedding. Now I could prepare my dinner and have a proper chat with my fellow camper – an overseas student who had hiked in earlier on. That's one of the great things about these remote bush camps – most likely, you'll be there on your own or possibly with one or two strangers. And put away your campfire ghost stories – crossing a busy road is probably more dangerous than doing this and that's coming from someone who was fairly out of his comfort zone here. So, we ate our food and shared some stories. Then there were the fireflies. In pitch black darkness, they're like nature's little Christmas lights – they were almost alien-like. But between my companion's hiking and my unplanned detouring, the energy to talk and watch the fireflies didn't last too long and before I knew it, we were off to our respective tents for some shut-eye.
The wind blew noticeably throughout the night and I woke up a couple of times to some interesting noises as a result but overall my gear worked well and I got a pretty good night's sleep. The inflatable sleeping mat was comfortable and I didn't touch the ground even laying on my side while the tent handled the wind without a problem, was warm and provided enough room for me and a few items. The bulk of my gear stayed on my bike because the pannier bags are completely waterproof though there was still room in the tent's vestibule if I wanted to stash some gear there.
An early night means an early start and I was certainly awake earlier than normal. Not as early as my neighbour though who was most of the way through breakfast by the time I emerged. He started his journey back to his car as I was half way through packing and before long I too was fuelled up and on the road in the opposite direction (the trail to England Creek is a big loop so there's at least two ways to get to the campgrounds).
What goes down must climb back up at some point and it did so abruptly in this case. The trip back up the western side of Nebo was a lot slower than going the other way and included lots of sections of hike-a-bike but that wasn't all bad. At the greatly reduced pace, I had time to stop and really appreciate the vistas all around me and various other details missed on the way down. It was hard work getting back to Dundas and the main road but all up I still made reasonable time. Once out of the national park, the rubbish tip on the way out proved very useful as I discarded the previous day's waste items and headed south along Mt Nebo Rd.
By now the roadworks on the Goat Track had finished but that was of no use to me because it's a one way road going up and because I was already at the top, I would need to ride along Mt Nebo Rd all the way up to Camp Mtn before I could make my way back down the range. As I got some distance down the road, a small hatch overtook me and a hand reached out of the window and waved. It took me a second to realise that it was my neighbour from the campsite the night before. It was good to know that he'd made it back safely and that he knew I'd done the same.
Because I'd made reasonable time getting from England Creek back up to Mt Nebo Rd and also because I was pretty tired now, I took it fairly easy the rest of the way back to Camp Mtn stopping to rest several times and to buy refreshments at Mt Nebo Village. Eventually the sign to turn off to Camp Mtn appeared and I turned off to do the final climb to the top. I paused again at the lookout before making my way down to the outskirts of Samford and back onto the Ferny Grove Rail Trail for the final leg home.
Final impressions
This was an eye opening trip for me and definitely the first of many more to come. To me bikepacking is the pinnacle of freedom and self-sufficiency. It was definitely not without its hardships and there was a few brief moments where I questioned why I was doing this but the thing is that, at heart, I am a city dwelling office sausage* so an adventure like this is a big step out of my comfort zone. I think that a few more trips like this and I will have all my gear tweaked and organised down to a fine art which will eliminate any previous concerns and bring doing this sort of thing right into my comfort zone (I may or may not have done further bikepacks to Dundas Bush Camp since England Creek as I write this – stay tuned).
Additionally, whilst I think this trip was great, maybe a bush camp as remote as England Creek wasn't the very best choice for a first time bikepacking trip and perhaps if I could wind the clock back and was doing it for the first time again, I might have chosen a closer bush camp like Light Line Rd or Scrub Rd and moved onto England Creek at a later time. Perhaps I'd even consider the Brisbane Valley Rail Trail as a better first bikepacking option (hey, there's a good idea).
The other great thing about this sort of trip is that it fits quite squarely into the description of a microadventure which is an idea that I really like. It's a relatively low cost, low commitment, high impact, environmentally friendly mini holiday somewhere close to where you live that you can tailor to suit your taste and budget. Because microadventures are local and low commitment, you can do many more of them than longer holidays that are somewhere costly and far away by just sneaking them into the crevices of your schedule. In the age of lockdowns, economic recession, degenerate politicians and environmental crisis, microadventures (and specifically short bikepacks like this one) might just be the perfect tool for your kit of strategies to help keep your head above water.
Gear list
As mentioned, I've gone for middle of the road equipment – not so crappy that it breaks and not so high end that it breaks the bank. In saying that and looking back, I could probably have made this list more economical with some more effort. At the end of the day, if it works for the kind of trip you're doing, there's no such thing as the "wrong" equipment which should give plenty of room for being creative.
Zempire Atom one person hiking tent. Basically sets itself up, waterproof, warm, plenty of room for one person.
Zempire MonstaLite sleeping mat. Not too thick and not too thin. Acceptable pack down size. Keeps me off the ground even laying on my side. The bag doubles as a pump.
Furno gas stove. Cheap, simple and durable. Comes with two pots and takes standard, cheap gas canisters.
Wanderer +15 degree sleeping bag. Thin to save space so not that warm but this is Queensland and I don't plan to camp in the depths of winter so I figure it should be OK most of the time. Or maybe I'll change my mind and camp in winter in which case see the thermal undergarments below.
Sportztrek cotton sleeping bag liner. Keeps the sleeping bag clean and can be used on its own when it gets too hot for the sleeping bag.
Darche solar lantern. USB and solar rechargeable plus it glows in the dark. What more could you want?!
Ortleib pannier bags that I already had. Actually bought originally for commuting and bike fishing so kind of a double whammy.
Topeak handlebar roll. Waterproof and sits steadily on the handlebars.
Thermal undergarments. No, not the merino wool ones – the plastic ones are fine.
My old Victorinox pocket knife that I've had for years. Really useful and makes me feel more "woodsey" in a hipster kind of way.
An old soft drink bottle to carry extra water. Obviously a hydration pack would also work but I chose specifically not to wear a backpack due to previous back issues.
Tools, spare parts, food, clothes, bumbag, GPS, other bits…
Ride adventurously and see you out there sometime.
* Office sausage – a slightly wobbly, more or less cylindrical and perhaps somewhat insipid city dweller often employed to work in an office environment who may feel at times out of his/her comfort zone beyond the city boundary.