Despite all the madness everywhere at the moment (or perhaps because of it), it's a pretty exciting time for cycling in Brisbane right now. There's the closure of the Victoria Bridge in the CBD to all but public transport vehicles, pedestrians and cyclists, the CityLink Cycleway trial which is adding separated bikeways to Brisbane CBD streets like Elizabeth and Edward Streets and the near completion of stage 4 of the North Brisbane Bikeway. While closer toward the Sunshine Coast, TMR is garnering feedback for a project to build a recreation trail from Beerburrum to Landsborough as part of a railway line upgrade. It's all very encouraging and almost makes me think that little old Brisbane is starting to come of age as a city that is seriously aiming to create a more balanced, responsible and realistic transport mode mix.
With so much going on in the Brisbane cyclosphere, one thing that passed totally under my radar is the completion and opening of the new Caboolture to Wamuran Rail Trail which provides a much needed link along the D'Aguilar Hwy from the west for commuters as well as allowing safe access to Wamuran and the various parks and forests beyond for those seeking recreation. I felt that I needed to rectify my oversight by doing a ride on the new trail and so I planned a day to get all the way from Caboolture to Woodford that would also incorporate a fantastic section through the Glasshouse Mountains Conservation Park at Bracalba.
The Caboolture to Wamuran Rail Trail starts right across the road from the Caboolture station so this really can be the quintessential car-free bike trip. And for me the very next time I go there, it will be just that. Unfortunately on this occasion, circumstances that are too long and boring to explain prevented me from doing so and I drove to the start of the trail instead. Nonetheless, with my Scott Scale under my bum and my DaBrim shading my face, I set off towards Wamuran along the new, car-free asphalt ribbon that is the rail trail. Plenty of other riders had the same idea and there was a good mix of roadies, mountain bikers, families and even a few e-scooters. Passing through farmland, suburbs, parks and bush, the rail trail was a great and stress free way to get out to Wamuran.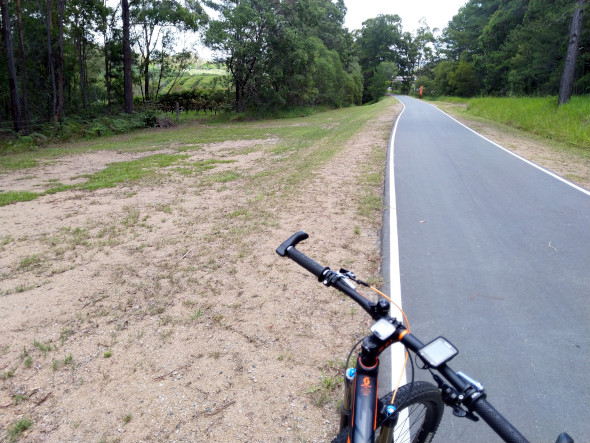 The rail trail itself is a great little ride but the value of it is also in the fact that it provides safe access to further exploration beyond Wamuran (it would be really great if this rail trail was eventually extended to join the Brisbane Valley Rail Trail). So after a short break under the shelter at the other end, it was time to start the off-road section of the ride to Woodford.
A couple of hundred metres down Station Rd I followed the brown signs and veered off into the bush promptly emerging on a rough track passing through some pineapple fields which felt a little like riding through an advertisement for a large supermarket chain. A little further on and I rambled through a few quintessential, quiet country roads with neat fifties style houses, bits of old and new farm machinery in sight, crops of (mainly) pineapple and elaborate flower gardens and lawns that were truly enviable.
Asphalt soon gave way to gravel and in the distance, past the farms I could see the edge of the bush which was the Glasshouse Conservation Park. I was on the right track. The day was beginning to heat up but a combination of the occasional short rain shower, my DaBrim and the fact that I was enjoying this ride more than any I could remember for quite a while made the heat barely noticeable. I wasn't trying to go fast but (without actually having any way to measure) it felt like the euphoria was causing extra watts to be milked out of each pedal stroke inadvertently as I crackled along the gravel.
The gate to the conservation park provided shade, a short drink stop and a photo opportunity. As I started rolling along under the high canopy, it was evident that the previous several days' rain was being retained well by the thick vegetation. The clay surface stuck a little to my tyres – not enough to really slow me down but it was noticeable and the humidity seemed to go up slightly. It was all a bit like a children's jungle safari storybook.
I pushed deeper into the park and all signs of civilization (which was realistically not that far away) disappeared from sight. Cicadas, Cockatoos and the alternating crunching and sloshing of my tyres is all that could be heard as the surface changed from gravel to sand to clay and back again. A few large puddles, some pinchy climbs and before I knew it my GPS had guided me to Mango Tree Trailhead which is a junction of several trails heading off in different directions through the thicket.
After another short drink stop, the trail proceeded through a gap between two high bushrock slopes then along a ridgeline that dropped off steeply on both sides into gullies of thickly vegetated with tall palms, ferns, Lantana and large trees reaching skyward to create the persistent canopy overhead. Every so often, a Goanna could be heard scurrying up a tree or into the undergrowth. What a wonderful place.
I emerged from the forest on Raaen Rd and after zig-zagging through a housing estate followed another dirt track beside a Pine plantation. The smooth dirt allowed me a steady pace but my rhythm was broken when I came upon a huge puddle taking up the width of the track. With long grass on either side, my only option was to go through but I had no idea of the depth I was in for and wasn't very keen on getting my shoes wet so I took them off and gingerly waded through. The water was about axle deep so, on the way back later, I decided ride through and cop the wet feet which was not entirely unpleasant.
A few more unsealed roads and I popped out at the back of Woodford where food and coffee awaited. I bought my lunch at a really genuine Queensland country takeway and took a seat in the park across the road to eat, rest and take in the atmosphere of the town. A little look around afterwards and then it was time to retrace my route back to Caboolture.
All up, this really was one of the best days out I've had for a while – there's a great mix of terrain, great country, rainforest and bush scenery plus a very nice destination at Woodford. The round trip was about 65km.
That's it for today. Ride safe, keep it fun and see you out there sometime.