As I always say, two wetlands are better than one* and when you also throw in a box of very tasty fried rice (more on that later) and a bicycle then you have yourself a very nice few hours out. Yes, it was time once again for another one of my miniature urban adventures so I wasted no time in dusting off and lubing my Trek Crossrip and heading out through Bracken Ridge, down the Deagon Deviation bikeway then ducking off into the Deagon Wetlands.
With gravel crunching under my tyres, I wound my way through the wetlands which seemed a million miles away despite the highway running alongside just a few hundred metres through the trees. Eventually, my ride emptied out at Deagon behind the racecourse and in good time because it was pretty close to lunchtime. This route is always worth taking if for no reason other than to buy fried rice at the Chef Lagenda at Deagon. It's best to go there on a very empty stomach though because the box of fried rice is rather large and once you start eating, you'll likely not want to stop until it's finished.
So, with refuelling complete, I carried on down Blackwood Rd towards the Gateway Motorway bikeway and ducked in behind the Boondall Entertainment Centre past the Boondall Train Station to the second of my wetlands for the day. Winding through the chicanes of the Boondall Wetlands, I thought to myself that the day is too good to pass through this place in a blase kind of way so I ducked off down one of the many unsealed double tracks that comes off the main tarmac path. Ambling through, I eventually reached one of the many minor creeks that runs through the wetlands where I stopped for a while to rest and reflect. I recalled that the borders would be opening up again soon and international flights would resume. It doesn't mean very much to me – I've never been the globetrotting type. It struck me, though, that amongst many other reasons people had for flying here from overseas, a proportion would be coming to see what we have right in our backyards. Maybe even the creek right in front of my eyes. It made me think that we have so much here at home so do we really need to travel to far off lands via the least energy efficient means when so many of us haven't even seen what's right under our noses? It's food for thought.
Onward I went toward the Shultz Canal. I climbed the hill just before the boardwalk at Nudgee and noticed another curio that had passed under my nose until now. I veered off the main path and climbed a little higher to an observation tower hiding in the trees at the top of the hill. The views extended all the way from Redcliffe to Moreton Island.
From here, I ambled back toward the Gateway Motorway bikeway and onward to Virginia to end my day.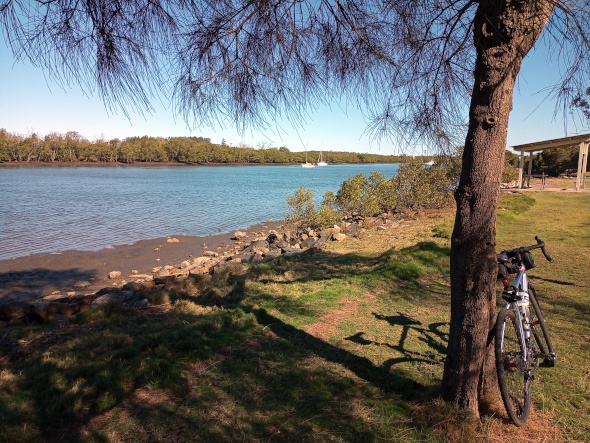 As those of you who frequent this site probably know, I'm a fairly big fan of QAGOMA and combining a visit to the art gallery with a bike ride so that's exactly what I did in order to catch one of the final days of the European Masterpieces exhibition (if you really love this sort of stuff, maybe Santa could oblige with a membership this Christmas).
The gallery had a couple of late showings available so I thought I'd ride the Boda Boda into town and make an evening of it.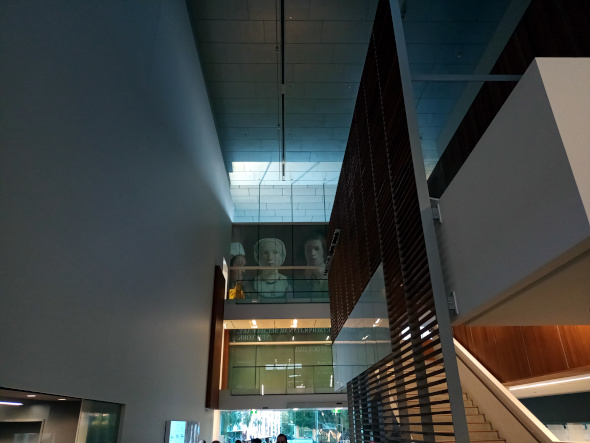 Of course, my knowledge of art is superficial at best but there's certainly something mind blowing about coming face to face with a six hundred year old artefact. We have every imaginable tool available now to help get creative ideas into some kind of visual or audible format with relative ease yet the masterpieces in front of me were created all that time ago with the most basic of utensils and materials.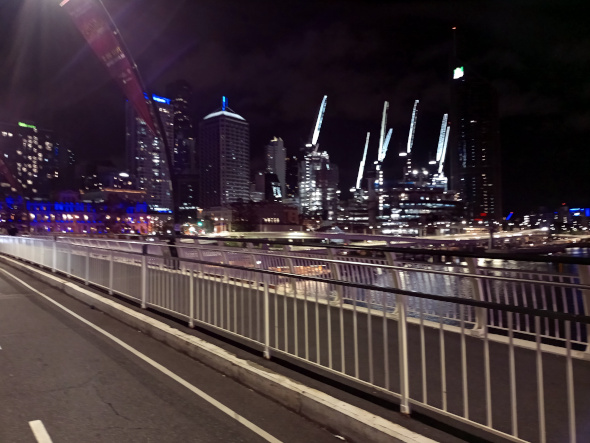 That's about all I have for today. With the weather warming up, it may be time once again to shake the dust out of the tent and head out for some bikepacking…stay tuned.
Ride safe and see you out there sometime.
* I never actually say that.