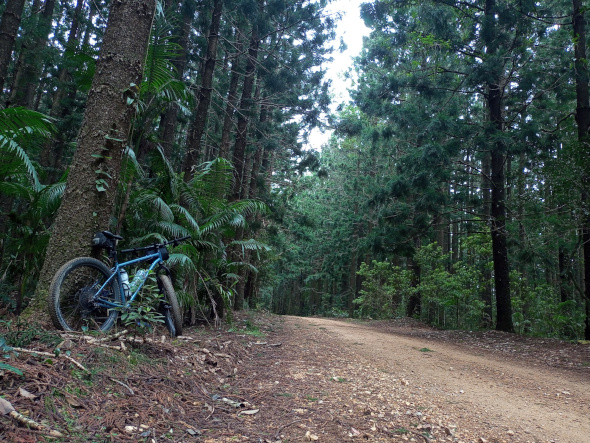 Aaaand I'm back. Since you're reading this, I'm guessing you're wondering what I've been up to. Well, contradicting myself for one thing. If you recall a few posts ago I was trumpeting the merits of keeping old bikes running and abstaining from replacing your old whip unnecessarily yet I find myself today the owner of another new (to me) off road velocipede. In my defence, it is second hand and more of an opportunistic acquisition than a planned one (though that possibly makes it even worse). Anyway, the bike appeared on a certain well known online used goods trading website for a price a couldn't resist and is precisely the kind of rig I've been dying to try for some years now so temptation got the better of me.
Having ridden all manner of off road bikes over the years, a steel, rigid bike with plus sized tyres is definitely a new experience for me. It's not quite a mountain bike and not quite a touring bike though you can more or less do both kinds of riding on it (though no massive drops and jumps if you want everything in one piece). The 27.5 inch wheels with the massive 2.8 inch wide donuts stand about as tall as a regular 29 inch wheel/tyre combo but with an unbelievable amount of traction and grip. It's a little slower going but that's the way I like things these days anyway. The big rubber is also a bit squirmy but I think that's just a matter of getting used to it. The upsides are that it's really comfy to ride, it rolls over just about anything and it has mounts for pretty much any bags, racks, bottles and other accessories you could ever want to mount on a bike.
The Bombtrack Beyond+ is a work in progress for me as I'm trying out various combinations of pedals, handlebars and bags. The current setup is a set of flat pedals and a very swept back, multiple hand position Jones-like handlebar that also provides extensions for mounting bags, GPSs, etc while avoiding brake and shifter cables getting in the way. That's all likely to change in future but for now it's providing me with a nice stable,  comfy ride and plenty of carrying capacity. And did I mention that it provides a ton of traction? Coupled with the long, slack geometry it climbs effortlessly both sitting and standing.
I'm yet to take this bike camping but I have been doing the rounds on it at some local adventure rides over the past couple of months – Beerburrum to Donnybrook and around the Mt Mee section of the D'Aguilar National Park to name a few. So far, no complaints and I love how simple the bike is with its one-by drive train, no suspension and steel frame. It weighs about 14kg and, no, it doesn't matter that it's heavier than XYZ carbon rocketship because my chances of winning any titles is about zero even if I cared and your chances are probably close to the same.
There's probably a whole lot more technical guff I could write about this bike but at the end of the day it wouldn't very much matter whether it had one slightly better variant of a brake or derailleur over another. It's 2022 and bikes are so refined now that beyond a certain price point, for everyday cyclists like you and me, it's pretty hard to find a bad one and the Bombtrack Beyond+ is no exception. So, enough rabbiting on and time to let some photos do the talking.
That's it. Stay dry and see you out there sometime.