Well, spring has finally broken through the depths of winter. The sun is out, the birds are singing and yet another Prime Minister has dropped out of the anus of the Australian polity. Still, I suppose we should be thankful that we didn't end up with Hannibal Lecter in the highest office. Yep, the next federal election can't come soon enough.
What?? Did you think this website was one of one of those beige, well mannered, apolitical jobbies? Pfffft. Not today. Besides the questionable Prime Ministerial installment, even a cursory glance at news to do with riding bicycles (including local Brisbane news) shows that it's all too often literally a matter of life and death and when you consider that cycling's increasing popularity also potentially impacts the derailment of the gravy trains of various undeservingly over-moneyed douchebag corporations and individuals, it's political anyway so rants like these shouldn't be unexpected.
And what better way to quell such a rambunctious seething than to take a long(ish) bike ride away from the conurbations and into into the semi-rural fringes of Brisbane at McGavin View on the shores of Lake Samsonvale? There are some trails that meander along the shore of the lake which have previously been covered in detail by preeminent Brisbane bike blogger Neil Ennis though I'm only going to do part of the full route that Neil did to get an idea of what the trail is like first hand so I can do a longer stint another day.
So with that, I pointed the Crossrip north and headed out through Warner and Bray Park making use of the various snippets of bikeway and deserted footpaths where I could.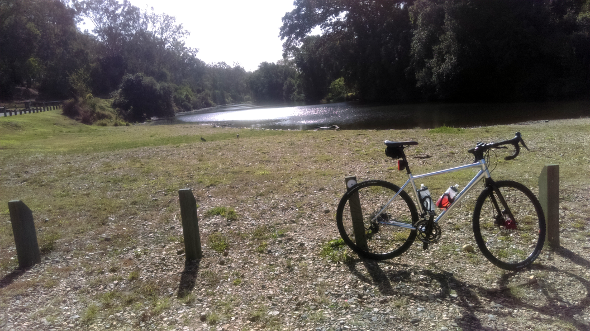 The further north I went, the more rural the surrounding became and the road gave way to more secluded and deserted bikeways.
Before long I arrived at Old Petrie Town.
After a quick look around I headed up Dayboro Rd to Vores Rd and into McGavin View. The shore of the lake provided some picturesque scenery in the afternoon sun.
Then it was time to find the trail head and see what's what.
Having entered the trails, I found the place was deserted besides the rustling of little quails in the undergrowth and other aquatic birds sitting on old trees sticking up out of the water in the lake. Unfortunately, I was a bit too slow on the camera to get any shots of those.
I pressed on exploring little nooks and dead ends in the trail but eventually finding where the trail continued on along the shoreline.
This was all great fun but time started slipping away so I had to turn around and head back but I had accomplished what I set out to do. I know that I will come back and spend most of the day here next time. Maybe I'll even go all the way to Dayboro.
Heading back, I eventually rolled down the northern part of Leitchs Road where a property owner has very kindly provided a concrete path and crossing over the South Pine River through their property which allowed me clear passage through to Leitchs Rd Sth and into Albany Creek.
And that's that. As you can see, despite the turmoil all around us, there are still pieces of tasty fish to find if look hard enough.
Keep riding and see you out there some time.