Continuing in the spirit of my decidedly unathletic, slow injury recovery rides, today I'm cycling to Brisbane's Victoria Park Golf Club to play putt-putt and enjoy a fat lunch with some friends. And if that all sounds a bit ostentatious, that's because it absolutely is.
But first some housekeeping. With this website being the veritable media empire that it is, it's my duty to meet the high expectations of all three (3) of my regular readers by providing new features and content. And so, I have provided a rather interesting new menu item at the top of the page with the label "PIX". Click and you'll be amazed (or not) by my spiffy new photo gallery which will eventually hold all the images on this site plus a few extra ones that I think are interesting. Go ahead and have a look, I'll wait here.
OK, all done? Great. Now, as I was saying, golf – I'm absolutely crap at it and to be honest, I don't really even fancy it that much. But I do like an excuse to go and ride a bike especially when the ride is an opportunity to show that you can use a bike to get places even when the place you're going to doesn't involve attaining a KOM.
Because the Victoria Park Golf Club is what some people might describe as "hoighty toighty", I thought I'd better make at least some effort to look and smell semi-decent for a change. To that end, my Cannondale F4 town/shopping bike seemed like the logical choice of bicycle.
So, dressed in a v-neck pullover with the collar of an actual shirt with with buttons sticking out the top (jeez that took some ironing) and a pair of chino dress shorts to cover my butt, I headed to the golf club feeling a little like this: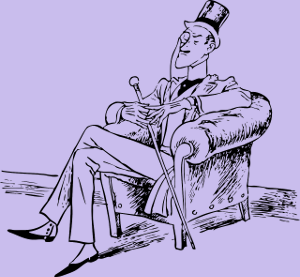 I did the 13km tottle down the Kedron Brook Bikeway barely raising a sweat despite currently having the fitness level of Clive Palmer though thankfully not quite the same girth.
Upon arrival, I was greeted by a fence that seemed to be begging me to lock my bike to it and because it was right near the front entrance and fully at my convenience, who was I to say no?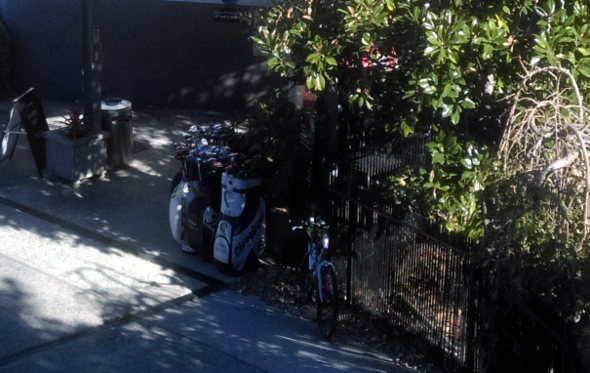 The eighteen holes of putt-putt shenanigans (yes, I know putt-putt is not real golf) was most enjoyable after which we adjourned to the Victoria Park Gold Club bistro for lunch. I can say without hesitation that their cheeseburgers are first class. And the view is not too shabby either.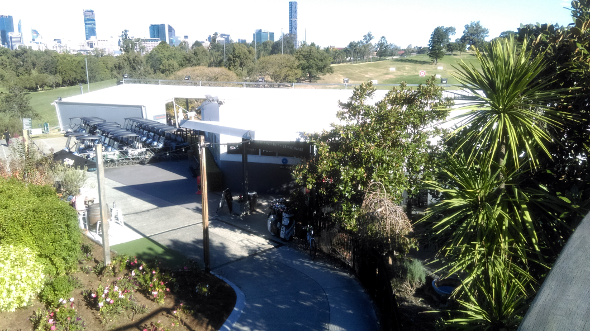 After sitting and taking in the atmosphere and each other's company for a few more hours, afternoon turned to evening and it was time to head home. My v-neck pull over, trusty Serafas USB headlight and Fly6 all proved to be very handy in the winter dusk as I pedaled home with the setting sun to the sound of flying foxes beginning to take up their nocturnal posts.
Until next, time – happy putting.